The Editorial Board of the journal "Bulletin of the Russian Academy of Sciences: Physics" monthly assigns one of the articles of each thematic issue the honorary status of "Editor's Choice". We hope that the selected articles will be of interest to a wide range of readers.
---
Volume 85, issue 3, March 2021
Thematic issue "Physics of Auroral Phenomena"
A. S. Nikitenko, O. M. Lebed, Yu. V. Fedorenko, J. Manninen, N. G. Kleimenova, L. I. Gromova, Localization of the Scattering Area of the Auroral Hiss by Ground-based Multipoint Measurements at High Latitudes // Bulletin of the Russian Academy of Sciences: Physics, Volume 85, Issue 3 (2021)
The work is devoted to the study of the features of the exit to the Earth's surface of natural magnetospheric electromagnetic radiation of the auroral hiss type according to ground-based observations of electromagnetic fields in the very low frequency range (VLF, from hundreds of hertz to tens of kilohertz). Auroral hiss is one example of noise emissions whose field parameters change randomly over time. Research team from the Polar Geophysical Institute has developed a method for analyzing data from ground-based observations of this kind of radiation. This method uses the representation of the field parameters as their distribution densities, while other methods use the averaged values of the field parameters. To interpret the results of ground-based observations, a numerical model of the propagation of auroral hiss radiation from the generation region to the ground-based observer is developed. The model includes the following modules: 1) generation of electrostatic waves at altitudes of 10,000 – 20,000 km; 2) propagation of electrostatic waves to the region in the ionosphere occupied by small-scale inhomogeneities of electron concentration; 3) scattering into the exit cone of electrostatic waves on small-scale inhomogeneities; 4) propagation of scattered waves in the lower ionosphere and the Earth – ionosphere waveguide.
The paper presents the results of ground-based observations of the VLF auroral hiss at three spatially separated points, Barentsburg (Svalbard Archipelago), Lovozero (Kola Peninsula, Russia) and Kannuslehto (Finland). There were cases when auroral hiss was registered only in the observatory of Barentsburg and when bursts were recorded by all three stations simultaneously. Only the collaborative use of the developed data analysis methods and the propagation model of auroral hiss allowed them to show that the burst recorded in the observatory of Barentsburg is caused by the existence of a scattering area of small-scale inhomogeneities of electron concentration which is located to the southwest of the observatory. The registration of auroral hiss bursts at all three points is caused by the simultaneous existence of two scattering areas in the ionosphere located at different latitudes.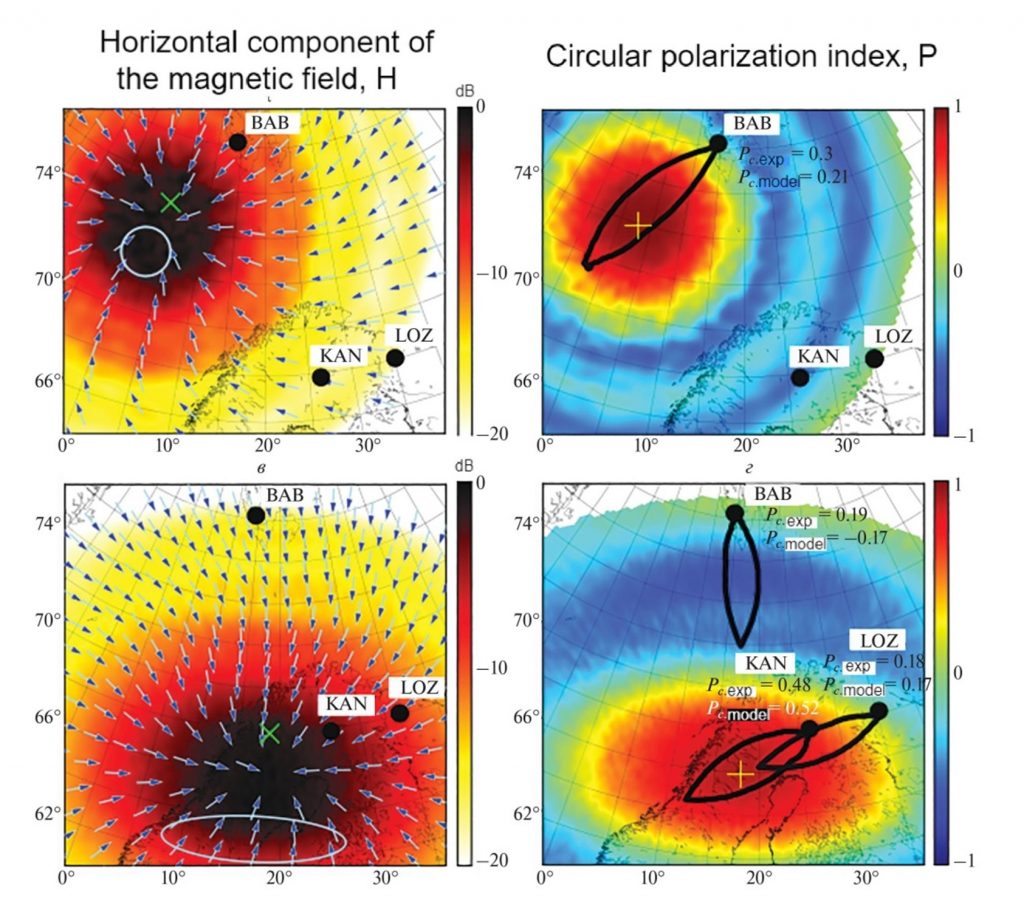 ---