The Editorial Board of the journal "Bulletin of the Russian Academy of Sciences: Physics" monthly assigns one of the articles of each thematic issue the honorary status of "Editor's Choice". We hope that the selected articles will be of interest to a wide range of readers.
---
Volume 85, issue 1, January 2021
Thematic issue "Wave Phenomena in Inhomogeneous Media"
I.V. Dzedolik, Linear and nonlinear phenomena in a flow of surface plasmon-polaritons
The paper is devoted to the dynamics of electromagnetic waves at the interfaces between two media, in particular, metals and dielectrics, due to the broad prospects of using composite materials in micro- and nanodevices of photonic and plasmonic technology. A high-frequency electromagnetic field causes oscillations of both free and bound charges in dielectric, semiconducting media, and metals. In this case, as a result of charge oscillations, secondary electromagnetic waves are emitted, which hybridize with polarization waves of bound and free charges in the medium and propagate in the volume of the medium, as well as along the interface between the media in the form of plasmon-polariton waves.
An external electromagnetic field of weak intensity causes a linear response of the dielectric constant of the metal. With an increase in the amplitude of the external field, anharmonic oscillations of electrons and ions, interband transitions appear, which lead to the manifestation of nonlinear polarization mechanisms. An intense electromagnetic wave or a powerful electromagnetic pulse generates nonlinear plasmon-polariton waves – cnoidal waves, kinks and solitons in the volume of the conducting medium and at the interface between the conducting and dielectric media. The properties and dynamics of cnoidal waves and solitons depend on the parameters of the exciting electromagnetic waves and pulses, as well as on the geometry of the system and the properties of the media in which plasmon polaritons are excited.
The paper presents the results of a theoretical study of linear and nonlinear processes during the propagation of plasmon-polaritons at a plane interface between a metal and a dielectric medium, depending on the boundary conditions and the energy density of the exciting electromagnetic wave. The analysis of the dynamics of plasmon-polariton waves was carried out by solving nonlinear equations obtained on the basis of a quantum hydrodynamic model for the Schrödinger equation, which allows one to consistently describe the physical mechanisms causing the nonlinear response of free electrons in a metal to the effect of an external electromagnetic field. It is shown that the profiles of the envelopes of the plasmon-polariton cnoidal waves and their periods are transformed when the source power and/or the conditions for the excitation of plasmon-polaritons at the interface between the media change. In particular, at a certain ratio of parameters, a shock wave in the form of a kink/antikink arises. Thus, by changing the power of the source of the external electromagnetic field, it is possible to control the period and shape of a nonlinear plasmon-polariton wave propagating in plasmonic nanodevices.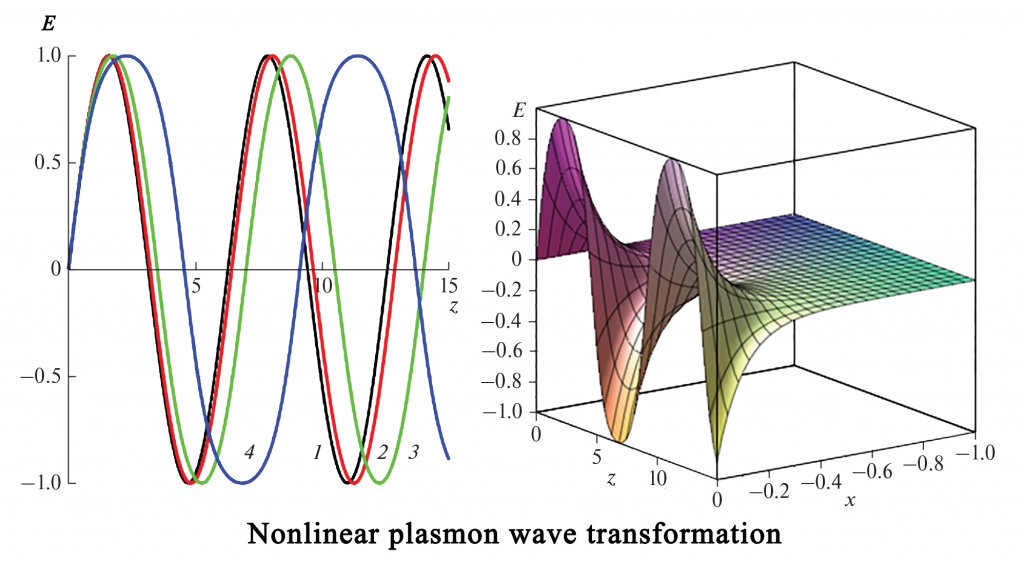 ---